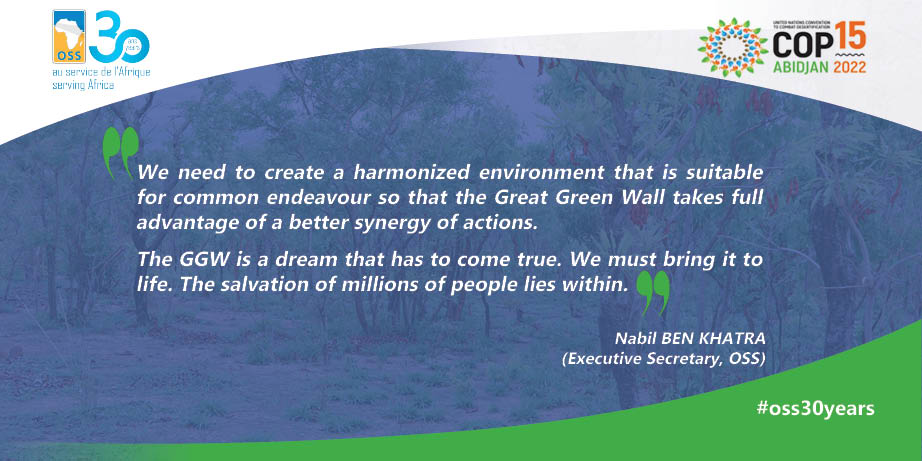 The Great Green Wall Initiative is one of the most important pan-African programs to combat land degradation in the Sahara and the Sahel. It was launched in 2007 by the African Union and has evolved over the years to become a regional sustainable development program that would now consider food security and resilience to climate change.
Drawing conclusions from the past green belts and dams and their limited results and besides planting trees along the 7000km corridor, the GGWI brings together sustainable land use and community land management practices under what is commonly known as "patchwork of actions".
The initiative regroups some twenty African countries and several technical and financial partners and aims to implement urgent and nature-based solutions, to contend with the disastrous effects of land degradation, desertification and drought.
In 2021, the financial partners that took part in the "One Planet" summit had promised a 16 billion dollar budget for the 2020-2025 period, including no less than 2.465 billion dollars to land restoration and the sustainable management of ecosystems. However, the implementation of these important commitments, remains very weak.
We all have to remember the expectations of the African populations with regard to restoring the 250 million hectares of degraded land by 2030 and the creation of 10 million jobs. The promise has reached the 2020-2025 halfway point, and no money has arrived yet !!
The Sahara and Sahel Observatory, has engaged very early in the definition of the Great Green Wall concept and has always made the plea for the Initiative. It still makes every effort to support its Sahelian and Saharan member countries to achieve their objectives under the GGW. Indeed, the orgnization strives to build the material and human capacities of local stakeholders and goes in search of funding for relevant projects that would meet the expectations of local populations.
Today, the OSS has to take on one of the biggest challenges and secure the proper delivery of the promised funds to their direct beneficiaries, namely the local populations and the ecosystems. Once again, in partnership with its African peers, the organization is determined to ask for the respect of the commitments of the partners of the North for the benefit of the current and future generations living in one of the most vulnerable regions in the world !
A couple of days ago, the OSS took its participation in the UNCCD COP15, an annual international meeting on the fight against desertification, to restate its commitment to supporting countries and facilitating their access to climate finance. During the Great Green Wall Day, which was held in Abidjan on May 18, the OSS Executive Secretary stated that « We need to create a harmonized environment that is suitable for common endeavour so that the Great Green Wall takes full advantage of a better synergy of actions ». The GGW is a dream that has to come true. We must bring it to life. The salvation of millions of people lies within.