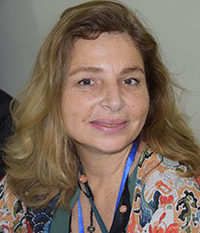 Lilia BENZID
  Expert, Communication Officer
  Sahara and Sahel Observatory
Malian politician and activist, Aoua Keïta***, is at the origin of the International African Women's Day, promulgated by the UN and the OAU on July 31, 1962, before being officially consecrated on July 31, 1974, at the first Congress of the Pan-African Women's Organization, held in Senegal.
This day has significantly contributed to the improvement of women's rights in Africa. Several states have thus provided themselves with the means to allow women to build their own emancipation and to improve their living conditions by uniting their strengths. 
The International African Women's Day is an annual global event that provides an opportunity to take stock of the evolution of women's rights and gender equality. It represents an opportunity to identify new perspectives, inform, raise awareness and advocate for the strengthening of government measures for women's empowerment.
It is important to remember that African women have traditionally played a leading role at the community level to combat shocks during crisis and emergency situations such as floods, droughts, epidemics or wars.
Moreover, she strongly contributes to the economy of the continent. As farmer or entrepreneur, she is among the most economically active in the world. She produces most of the food in Africa, provide 40% of the agricultural work and own a third of businesses.
Much progress has been recently made in empowering women in Africa, including the enactment of equal rights legislation. Many African countries have closed the gender gap in primary education. Thanks to the quota system, women represented 22.3% of parliamentarians in 2015 in sub-Saharan Africa (compared to 8% in 1995) and are therefore positioned within the world average (22.1% in 2015). 
However, African women still face many challenges in their societies. Whether they are entrepreneurs, leaders in public life, or members of boards of directors, many constraints still prevent them from making the most of their potential. For instance, in the rural areas, time and energy are spent in the search of water and wood. Strongly impacted by the decrease in natural resources and increasingly vulnerable to the significant consequences of climate change, they are therefore obliged to show more adaptability. 
It is in this context that, very early on, OSS became aware of the primordial role women play in the development of the continent and has thus integrated the gender dimension into its strategies, programs and projects. In this context, OSS has had a gender policy since 2016 which it implements in its activities and within its teams.
Thanks to member and partner countries' efforts, and with OSS' technical support and the financial backing of climate funds, concrete measures for adaptation to climate change have been integrated into development projects and programs in Africa. Within this framework, special attention is given to women, whose resilience has been significantly improved and whose adaptation capacity has been strengthened.
For example, the AdaptWAP project has provided women's groups on the outskirts of the W Regional Park (shared by the three countries in its intervention zone: Benin, Burkina Faso and Niger) with equipment for the conservation and processing of fish products. The project also provides these women with a series of organized training sessions on fishing and fish farming techniques and on the use of new tools produced by the population.
Additional income is thus generated, and financial autonomy is consequently ensured. 
Furthermore, in Uganda, various women's groups living in three catchments areas (Aswa, Awoja and Maziba) have had their capacities strengthened by the construction of improved stoves (9,735 homes). This initiative has an undeniable impact on the optimization of living conditions and quality of life. It, indeed, allows reducing the time spent cooking and looking for firewood and decreasing pollution, diseases, etc. 
In addition, OSS' commitment to gender parity is also reflected in the integration of a quota dedicated for women in the training programs it implements with its partners in various fields of expertise such as remote sensing, ecosystem accounting, monitoring and evaluation, etc. By aspiring to offer them equitable opportunities, OSS and its partners are contributing to the fulfillment of African women so that they can play their part in the continent development. 
At OSS, we are convinced that the development of gender benefitting policies will lead to more inclusive growth, recognizing the fundamental role of women as producers, economic agents and leaders in public life.
***Aoua Keïta (1912-1980) was a Malian activist and politician. She was a figure of independence, trade unionism and feminism in Mali.
She played a leading political role and was the only woman to take part in 1962 in the elaboration of the Malian Marriage Code and Guardianship which was a great leap forward for women's rights in Mali.She is at the origin of the International African Women's Day (IAWD), enacted by the UN and the OAU on July 31, 1962, and has contributed to the strengthening of ties between African women activists and international organizations.
She has received numerous national and international awards and recognition. 
An Aoua Keita Prize was created in 1991 and awarded annually as part of the Pan-African Women's Day to reward "the effort, dedication, and courage of women and men" for the "promotion and defense of women's rights". 
A conference room has been named the "Aoua Keita Room" in the Malian National Assembly and her portrait adorns the vast mural fresco located on Koulouba hights, the "hill of power" in Bamako, which traces one hundred and fifty years of Malian history.